Outreach International
112 W. 18th Street
Kansas City, MO 64108
Phone: 888-833-1235
Mission
We create lasting solutions to poverty by helping people around the world access their own safe water, nutrition, income, health, education and more.
Success Story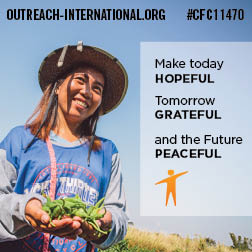 "NGOs are continuously working in Nepal with different development models to eradicate poverty. If development workers in Nepal had followed Outreach International's approach from the start, our country and people would be much further along in their self-sustaining community development efforts."

This was the reflection of Sushila, one of our newest teammates in Nepal, as she garnered first-hand experience and training in Outreach International's Participatory Human Development Process.

"Long ago, I internalized a credo that guides my work: Go to the people, live among them, plan with them... start with what they know. Build on what they have with an integrated approach. Don't conform, transform. Don't offer relief - offer release. From the Outreach team in the Philippines, I learned that training alone is not sufficient; one needs to act.

"My training helped me figure out how to implement the Outreach Process in my home of Nepal. People in our country hesitate to speak out about issues they face because they cannot raise their voices loud enough to access institutions that offer support and resources. Without confidence... they wait for help and support from the outside.

"Until Outreach expanded into Nepal, we lacked an issue-based, action-oriented program, and when other organizations finished development projects in communities, they left, leaving the people as dependent as they were in the beginning. After being immersed in communities who have worked with Outreach for years, I'm confident that Outreach's model addresses people's needs by reaching out to the core of the community and granting them the strength to grow and free themselves from poverty."