Habitat for Humanity
(aka) Habitat for Humanity Inc.

285 Peachtree Street NE, Suite 2700
Atlanta, GA 30303
Phone: 800-422-4828
Mission
We build or renovate housing in partnership with low income families to improve their health, education, financial stability and neighborhoods. After disasters and emergencies, we help communities create immediate and long-term shelter options.
Success Story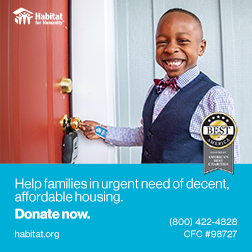 I remember running up the white steps - I remember they were white - and I was so eager to go into what was going to be my room because I was only going to have to share it with one sister. You know, not all three of us.

And I ran into the room and I can remember, vividly, the smell of fresh paint and the color of the carpet, which was an off-white, beige carpet. And to me, that signified wealth. I started yelling to my mom, "We're rich! We're rich!" She looked at me from the bathroom, and I remember she just smiled. She didn't tell me otherwise.

Habitat allowed the 4-year-old me to dream, to really know that I could achieve. It's truly hard to express what having a Habitat home has done for my family, but I know I would not have gone on to a great four-year university, I wouldn't have the same aspirations, I wouldn't be as ambitious as I am without having had that home. That home has blessed me with a wonderful life.

There's life circumstances in which families aren't able to elevate themselves on their own. And with a little support and guidance, you can truly uplift a family. You can uplift them from poverty. You can help their children succeed. You can help parents feel as though they're providing in ways they never could have. Sometimes, people just need a little help.

I know this because it's happened for my family.